Package for our used cars to sale
We offer you a used package, which is unbeatable! As part of our large stock of vehicles, you will find 100 used cars or more on stock.
To check out or used car market, click 'Detailed search' below the red bar and use the filters to start your search. Or browse through our entire stock. Because we offer the lowest prices in Switzerland, you can often find new cars with up to 50% discount. In other words, you get a new car, but pay the used-car price.

When you buy a used car, you are not going to be taking any risks with us. Our used cars are guaranteed accident-free and are subject to a 100-point check. Find your dream car!
Brochure OccasiONE
Download our brochure to learn more about this service (in German).
How can I help you?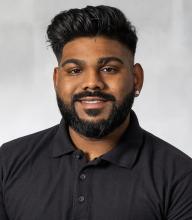 Risanth Sekar Kaufmann in Ausbildung

---
Warranty
All our used cars come with a warranty. It's up to you to decide on the scope and duration – this is our customer-oriented service for you!
Right of return
If you are not satisfied with your car despite having taken it for a test drive, simply trade it in! Now that's what we call buying without risk. Terms: 30 days, maximum 2'000 km, 3.9% excess fee, only on stocked vehicles. Unique for cars!
Favourable leasing and financing options
Whether in attractive instalments or straight cash, we would be pleased to offer you your tailor-made new car. With or without down payment. We will take care of the paperwork..
Breakdown and accident assistance
Thanks to our professional breakdown service, you will be given the help you need in the shortest possible time, 24 hours a day, 365 days a year. In 8 out of 10 cases you will be able to continue your journey. If not, we will organise your onward journey for you.
Free tyre hotel
We will store your winter/summer tyres in our tyre hotel for the first season. That's what we call customer service for your car.
Workshop and parts department
Our car workshop carries out maintenance and guarantee work for every used car. In our in-house parts department we can tune your new car in line with your wishes.
Trade in and navigation guaranteed
You can easily trade in your old car, regardless of make and age. Valuation is based on official Eurotax reports, the current market situation and the individual condition of your used car. If your dream car does not have a factory navigation system, we will install a touchscreen system into your car. Free of charge!
Control certificate
Your used vehicle will be subjected to a 100-point check by our trained specialists. The workshop manager and your sales consultant ensure high quality standards through a targeted follow-up inspection.

Guaranteed accident-free
Our used vehicles are all accident-free, according to VFAS guidelines. We only sell repaired accident cars to dealers.
OccasiOne services brochure
Download our used cars – brochure to learn more about this service.