Schedule an appointment online
We will be happy to advise you personally on the purchase of your car. Book your appointment for a free test drive online now.
How can I help you?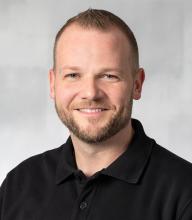 Claudio Geissmann Verkaufsleitung

---
New and used cars at the lowest prices in Switzerland
Over 500 cars of all brands in stock
With us at Bremgarterstrasse 75 in Wohlen (Aargau), you will find over 500 cars of all brands at the lowest prices in Switzerland.
Since 1967 we buy our cars worldwide, so we can offer the lowest prices. The factory or Switzerland warranty is of course included.
---
Auto Kunz AG offers over 500 new and used cars of all makes.
And all this at the lowest prices in Switzerland. These cars include different models with a variety of extras. Given the contractual freedom we enjoy, we are able to offer you unbiased advice. We are not tied to any particular make and our recommendations are based on our decades of experience.
With a franchise dealership, the sales team will of course praise its own product. We, however, sell up to 35 different makes and offer independent advice.
We have a top credit rating and were awarded the highest rating with Bisnode (Dun & Bradsteet) several times. On average, this quality certificate from the world's largest rating agency is only awarded to 2-3 dealerships throughout Switzerland per year (there are over 5,000 dealerships in Switzerland). This hallmark is achieved by only 2% of all Swiss companies.
Auto Kunz AG is very proud of this seal of approval, reflecting as it does the reliability of car purchases and the high service level which Auto Kunz AG offers to its customers.
Thanks to Swisspack for new cars and OccasiOne for used cars, you will find everything you need. Our motivated customer service team, a state-of-the-art workshop infrastructure with software for over 35 makes and a proven team of automotive specialists ensure top quality after-sales service. And thanks to our emergency service '7/24', we are available around the clock to deal with emergencies throughout Switzerland (link auf Tel Nummer).
This is a service we offer in collaboration with TCS. Warranty extensions or service packages are available for new and used cars.
We are interested in buying your vehicle. Auto Kunz AG will be happy to make you an offer for the purchase of your vehicle, regardless of whether you buy a vehicle from us or not. Browse through our digital showroom and check out our huge range of vehicles at the lowest prices in Switzerland.
In our online car shop you can choose from over 500 cars – if you want, we'll even deliver your vehicle to your home. Give us a call or, even better, come by and let us advise you or inspire you with a test drive.
Thanks to our 'try & buy' service you can even test your car for 3 months and then afterwards decide whether you want to buy or not. If you do decide to buy, we will deduct half the rental charge from the purchase price. Now that's what we call a unique customer service.
With 'Auto Abo & Public Transport', you have a highly flexible rental product at your disposal. Ownership is not the key factor here, but use. Ours is an all-inclusive offer – you just pay for fuel or electricity. Everything else is included, e.g. service, tyres, insurance, taxes, vignette, etc. – and all this at a preferential price.
The history of Auto Kunz AG and its 52-year existence, can also be found here on the homepage.